Bonny Morgan and The Player's Club, (Bonny on Vocals and Guitar, Vasco Alphonso on keys, and Andrew J Taylor on upright bass) Had the pleasure of performing for thousands of folks at the City of Toronto's Scotiabank Jazz Cafe' Stage, last year as part of their Sounds Of Toronto program, and again this year, at the Fresh Wednesdays Concert Series in Nathan Phillips Square. You can visit Andrew J. Taylor at www.andrewjtaylor.com as he's got quite a lot going on around town as well.

At Scotiabank Jazz Stage downtown Toronto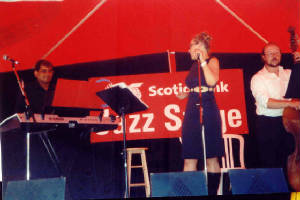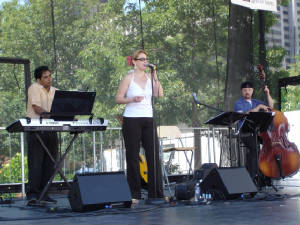 Vasco Alphonso, knows just about every song there is. He has toured the world and always seems to know how to please the crowd with just what they want. Whether it be closer to the sound of a four piece band, by using his high tech keyboard, or keeping to the more intimate sound of solo piano, Vasco has it all. With Vasco on keys and vocals, and Bonny on vocals with the soft sound of her Spanish guitar, the duo weaves a musical tapestry consisting of lovely songs of past and present.